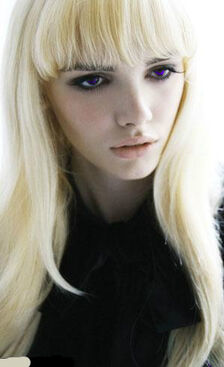 Species: N/A
Date Of Birth: August 18 1993
Age: 25
Association: Independent
Occupation: Cafe Owner, Musician/Dancer, High School Music Teacher
HISTORY
Violette Sonya Rose DeVere was born on 18 August 1993 in Oxford, England. Violette was singularly brought up by her mother, Wendy Allison Gale-DeVere, a grade school teacher. As an only child, Violette was raised in a single family home until the age of 12. Her father, in contrast to the rather large role that her mother had played in her life, had been an unknown figure in her childhood, the only substance of his existence had consisted of a few personal items that he had left behind. Not much was known or said about James Quinton DeVere, the most Wendy had revealed to her young daughter was that he had been both an entrepreneur and a gentleman and one who often sported as busy a work schedule as his active social life. James was described as being a charming and well-educated man who spoke exuberantly of the future, at least up until his sudden and unexpected disappearance during the second trimester of Wendy's pregnancy.
The years had passed by unhindered while Violette spent most of her time sheltered indoors. Her education was conducted at home as well as most of her extracurricular activities; which included all things from literature and arithmetic to languages and art. The only activity that took Violette away from home was dance. On one cold December afternoon (19 Dec. 2009), Wendy DeVere was found dead at the bottom of a flight of stairs. The investigation provided little to no evidence except for the pre named deceased being found under a layer of ice within the home, it was soon labeled a freak accident. The young Violette was then left in the care of an aging grandfather up until the age of 14, when he unexpectedly passed on due to heart failure. Up until the age of 18 she had found ways to travel, studying whatever she could get her hands on, and generally seeking solace in numerous activities.
Community content is available under
CC-BY-SA
unless otherwise noted.